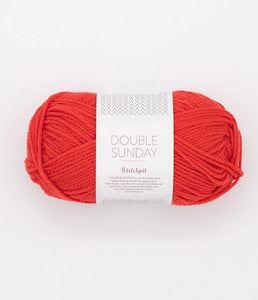 PetiteKnit DOUBLE SUNDAY contains 100% merino wool without superwash treatment.
Composition: 100% Merino
Yarn Weight: DK
Yarn Ball Weight: 50 grams = 108 metres
Tension/Gauge: 21-20 sts on 10 cm Needles 3.5 -4 mm
The merino wool in this quality comes from Australia. Our supplier has guaranteed that the wool we buy does not come from sheep that have been subjected to mulesing.
Note! Due to the different ways different computer monitors display colours, we cannot guarantee that the colour of the yarn on your computer monitor actually portrays the true colour of the product.  
Images provided by Sandnes Garn AS and are subject to copyright