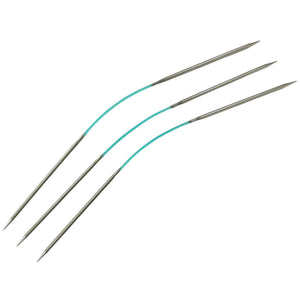 HiyaHiya flyers are flexible double pointed needles. Their flexibility means that fewer needles are needed in comparison to traditional DPNs making, the knitting process more straight forward.
Two of the needles are used to hold the stitches of your project, while the third is used to knit with. As there are fewer needle transitions, knitting with the HiyaHiya Flyers will be quick and smooth in comparison to working with multiple straight DPNs.
Flexible cables and seamless joins are teamed with high quality stainless-steel tips to offer strength, with a hollow construction for a lovely lightweight feel.