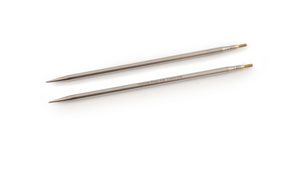 HiyaHiya's range of sharp interchangeable tips vary in size from 2.00mm to 10.00mm and are compatible with HiyaHiya interchangeable cables and straight interchangeable needles.
The high quality stainless steel sharp tips offer strength, with a hollow construction for a great lightweight feel. The tapered point is ideal for intricate stitches and lace patterns.
The tips range from the flyer interchangeable tips that run from 2.00mm to 2.50mm that are compatible with the interchangeable flyer cables as well as our other miniature tips, to tips from 2.75mm to 5.00mm that are compatible with small cables and straight needles and tips from 5.50mm to 10.00mm that are compatible with large cables and straight needles.
Tips in 2.00mm, 2.25mm and 2.50mm are only available in 5" and are compatible with miniature cables.
Large tips can be used with small cables when used with standard tip adapters. Small tips can be used with miniature cables when used with sock tip adapters.