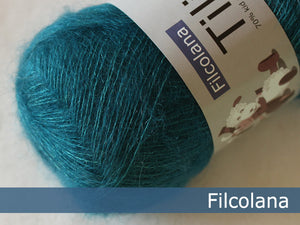 ​
Mohair shares all of the good qualities that we know from wool: It is warm, beautiful and can absorb moisture, which makes it comfortable to wear. Mohair comes from the angora goat, and the fibres are more lustrous and slightly stronger than those of wool.
Silk has for centuries been one of the most coveted textile fibres. It is lustrous, strong and incredibly comfortable to wear.
Tilia is a gorgeous mix of glossy mulberry silk surrounded by a cloud of the lightest kid mohair. On the technical side Tilia is a fine, worsted spun and brushed yarn.
You can of course knit Tilia on its own, but we recommend knitting it together with one of our other yarns. 
Did you know that the goat is called an agora goat because it originates from the Ankara region of Turkey? That the word "mohair" has arabic roots, and that the angora goat is sometimes called also the mohair goat as well.
Fiber: 70 % Kid Mohair, 30 % Silk
Note! Due to the different ways different computer monitors display colours, we cannot guarantee that the colour of the yarn on your computer monitor actually portrays the true colour of the product.