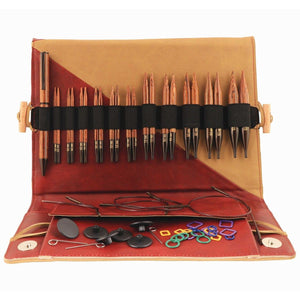 This collection of wooden needles, made from the same much-loved laminated wood as Symfonie, has unique tinted looks. Warm to the touch and gentle in the hand, they have perfectly tapered points that can pick up any stitch with ease. Lightweight, strong and durable, their smooth surface makes any type of yarn glide. Each tip's size is permanently laser printed on the metal join.
This Deluxe set contains 11 pairs of the most popular size tips and 6 cables in a variety of lengths for all types of projects. The set also contains twenty stitch markers in two sizes and shapes, one set of cable connectors.
Beautifully presented in a stylish case made from premium quality material. Practical too - it has a built in chart keeper!
All Ginger needles are made from FSCTM certified wood, sourced from well managed European forests.

Special Short Length - 8cm (3") long, good for smaller projects. Makes 40cm / 50cm circulars.


Special Short Length Interchangeable Deluxe Set contains 11 pairs of tips in sizes:
           3.50mm (US 4)
           4.00mm (US 6)
           4.50mm (US 7)
           5.00mm (US 8)
           5.50mm (US 9)
           6.00mm (US 10)
           7.00mm (US 10.75)
           8.00mm (US 11)
           9.00mm (US 13)
           10.00mm (US 15)
           12.00mm (US 17)
        2 x cables for 40cm / 16" circulars
        2 x cables for 50cm / 20" circulars
        8 x end caps
        4 x cable keys
        20 x Linea stitch markers
        1 x set of magnets
        1 x pen
        1 interchangeable needle case with built-in chart keeper in burgundy and beige finish.